REGISTER FOR WINTER SEASON!!
This year we will have FREE training sessions for ALL INTRAMURAL AND TRAVEL PLAYERS!
WINTER REGISTRATION IS NOW OPEN! CLICK ON FURY ICON BELOW TO DOWNLOAD FORM OR CLICK ACTIVE FOR ONLINE REGISTRATION.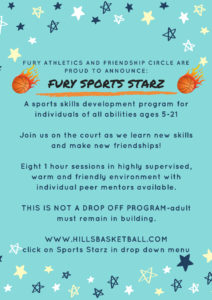 ARE YOU READY TO HOOP IT UP?
Any questions please email vturf@aol.com
General Information

**Please Read Before You Contact Us With Questions Most of The Answers Are Contained Below**

HHH Youth Basketball is designed to introduce younger children (K, 1 st , and 2 nd graders) to the game and provide enhanced instruction and games to children in grades 3-12. All participants play in every game. It's a great experience for all involved and helps teach teamwork, leadership, sportsmanship, friendship, discipline, loyalty, and pride. The league is designed with safety foremost in mind, and to maximize the fun of the game. Practices will start in November. There will be 10 games plus playoffs (grades 3-12) running from early December until early April. Games will be played at Five Towns College and other schools within the Half Hollow Hills School District. Games will be played Sundays (typically after 12:30pm).

Do not ask when practices are for your child, as we do not know until team selection has taken place.

Grades K, 1 and 2 will have one practice and one game per week with "game like" rules (relaxed). Grades 3 and up will be official games with official referees and scorekeeping. Grades 3 and up will be by DRAFT. On the registration form, you have been given a new Blockout option. This means that you can choose one day of the week that your child cannot practice. We will try to accommodate all requests although it is not guaranteed. If your child has religious school or another function that cannot be missed – we strongly suggest that you fill out and us the blockout option. Once the draft takes place we cannot accommodate this request.

Travel Program – there will be tryouts for kids for the travel program – grades 3 and up. Children must attend one tryout to be considered. Be advised, Travel league is VERY competitive and teams are run in a more competitive manner than intramural. Travel tryout dates will be announced sometime in September and will be posted on the website. Travel games will be Sundays as well as various times during the week. 50% of the games are away games that you must travel to. You should only tryout if you can commit to this type of scheduling. Travel registration has additional fees.

Registration – Please fill out the registration form completely and return with registration fee to the address listed. If you register on the website – please be aware that you are not officially registered until your registration fee is received by us.

Code of Discipline – By signing the registration form all participants and parents must abide by the code of discipline and ethics. The league will not tolerate poor sportsmanship, jeopardizing the safety of anyone or any inappropriate behavior.

Refunds – League Policy – There are no refunds unless there is an unusual circumstance that requires consideration.